Industrial Series Generators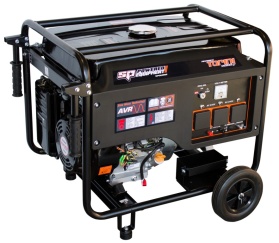 SP Industrial Series Generators all use a superior AVR equipped with a Digital Stability Control Program. This allows voltage to be calculated and controlled at the outlet and not the alternator. With Hi-Low Limit Electronic Safety Shut Off this makes SP Industrial Series Generators one of the safest and advanced generators around.
SP Use leading edge alternator and electronic technology to offer a range of generators that produce a very pure energy supply. This clean and pure form of energy makes SP Industrial Series Generators suitable to power even the most delicate electronic devices eg: laptops
SP combined a strong rugged design with easy operation to offer one of the worlds most reliable and dependable range of generatiors.